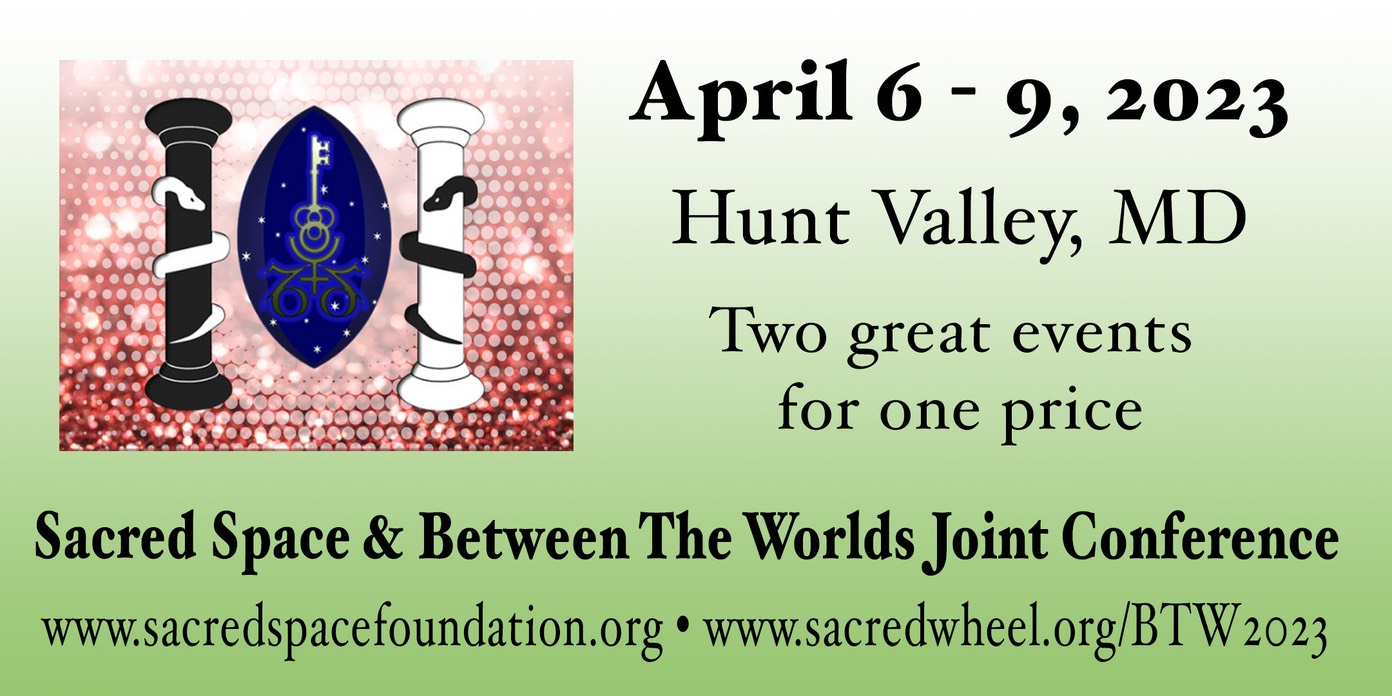 Registration Here — The Room Block Is Here 

Pre-Registrations Will Close March 30, 2023
Digital Schedule Grid - Click Here
Download PDF Of Program Book - Click Here
Main Ritual Pathworking & Outline
Starting and Closing Times For Conference
Thursday April 6, 2023
Registration opens 1:30 pm & Opening Ritual is 3:00 pm
Sunday April 9, 2023
Closing Ritual is 4:00 pm
COVID-19 Safety Policy
To ensure that our attendees have the best possible experience at all levels, the following are the COVID-19 safety precautions set in place by the joint organizations of the board of the Sacred Space Foundation and the Between the Worlds Conference.
We encourage attendees to be vaccinated and boosted to the level that they are medically able. You will have the option of applying a sticker (Red-Yellow-Green) on your name badge indicating the level of personal contact you are comfortable with.  If you wish to wear a mask, for whatever reason, please feel free to do so. If others are wearing masks around you, please be mindful that they may also need more social distancing, especially if you are unmasked. We will have extra masks at the registration table.
Please be assured that we will continue to monitor and adhere to the recommendations of the CDC and appreciate your understanding that we may find it necessary to make changes to these policies in accord with those recommendations outlined at the time of the conference. 
Thank you all for respecting the boundaries and concerns of fellow attendees and contributing to a safe and healthy environment for our sacred community and their families.
Future Updates
The Sacred Space Foundation and the Between the Worlds Conference leadership are closely monitoring the health and safety situation as we remain in the midst of this global pandemic.  Please know that you are precious to us and that we are determined to provide a safe and sacred experience for us all.  Closer to the conference, when we can account for the conditions at the time, we will announce our health and safety protocols.  Please note that if our best judgment deems it necessary, we may include more safeguards than what is required by local regulations.
Our beloved friends, we miss you and look forward to when we can be with you in person.